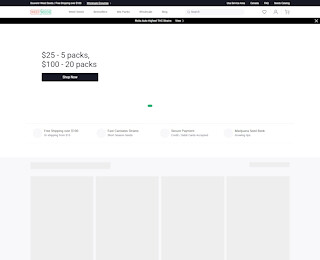 From day 1, Colorado has been among the most prominent states advocating for marijuana. It became legal to use medical cannabis in the state in 2000, while recreational use was legally allowed in 2012. If you live in Colorado, it is legal to carry a maximum of one ounce of cannabis, whether you're registered medically or not. In addition, the law surrounding growing marijuana seeds in Colorado is quite lenient. At Weed Seeds USA, we have a comprehensive library of the highest-quality cannabis seeds. With us, you can expect unsurpassed customer service, so when you buy cannabis seeds in Colorado, you can be confident we deliver what we promise.
Our Most Popular Seed Strains in Colorado
Below we explore some of our best-selling Colorado marijuana seed strains:
Although this isn't the easiest variety to grow, many growers cannot resist cultivating it and understandably so. Beyond its excellent taste, the superb traits of this strain are its powerful high mixed with feelings of euphoria, happiness, and relaxation. Girl Scout is one of the most potent varieties and is a hybrid of sativa and indica as a crossbreed of the Durban Poison and OG Kush. Indica dominates the strain at 60 percent.
Girl Scout has a high THC level of about 17-28 percent and a CBD content of up to 0.2 percent.  This strain takes 8-9weeks to flower, has a slightly minty, and has a distinctive skunky aroma. The medicinal benefits of Girl Scout Cookies include helping with migraines, headaches, stress, depression, severe, and chronic pain disorders.
This super-potent pure sativa strain hails from South Africa. Durban Poison is fruity and earthy and is known to promote happiness, concentration, productivity, and creativity. This makes it perfect for active periods, daylight activities, and even afterward. Medical cannabis patients and stoners alike love Durban Poison. The strain has THC levels of up to 24 percent.
Some of the possible side-effects of the variety are dry mouth and paranoia. Durban Poison is effective for helping with chronic pain, nausea, anxiety, and depression. Its buds are chunky and round with a thick coating of trichomes. Its flowering period outdoors is late September to early October, while it takes nine weeks to flower indoors.
Originating from Afghani, this stout mold, mite, and disease-resistant strain with a piney smell is quite potent. Because it's hard to come by in dispensaries, growers relish cultivating it. Selecting the right cannabis seeds is crucial when growing Northern Lights, and if you want to ensure a reliable harvest, we recommend you get feminized Northern Lights Colorado cannabis seeds. Users report feeling relaxed, euphoric, and sleepy thanks to Northern Lights. This variety is relatively easy to grow outdoors and indoors and has a flowering period of 45-50days. When grown outdoors in a sunny, warm climate, the strain will produce the highest yields.
Top-Rated Marijuana Strains
Want to grow your own marijuana seeds in Colorado? We've got you covered. As one of the best online seed banks in Colorado, our top of the line marijuana seeds will guarantee that you get high yields. We have an excellent selection of seeds to ensure you find exactly what you need. Contact Weed Seeds USA to buy marijuana seed strains in Colorado or purchase online on 1-844-807-1234.
Marijuana Seeds Colorado