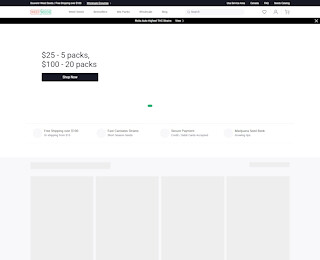 Buy Autoflower Seeds Online With the Best
If you are in the industry of cannabis, for sure, you look for the perfect seeds, which are easy to cultivate and give you extraordinary profitability. There are different types of seeds, but the best and most convenient are the autoflower marijuana strains. It is essential that as a grower, extractor, or dispensary owner, you know why autoflowering is the best alternative. You must also know the incredible options we have at Weeds Seeds USA for your business.
Why Buy Autoflower Seeds Online?
Autoflower seeds produce flowers automatically according to their age, regardless of whether the photoperiod is short or long. If you buy autoflowering seeds, you will get earlier harvests, you will be able to do more crops per season, and you will be able to have perpetual harvests in indoor cultivation.
Also, growing is more straightforward, with fewer complications. The plants' size is also more manageable, and you won't have to worry about light periods or issues like light pollution. By buying autoflower seeds in the USA for your business, you will make an investment that will leave you a satisfactory return.
At Weed Seeds USA, We Have the Finest Autoflower Strains for You
These are just five of the extraordinary varieties of autoflower seeds for sale online in our catalog:
Girl Scout Cookies
This classic of the world of cannabis continues being one of the most demanded of the market. Its buds can reach concentrations between 20-22% of THC. In its genetics, the Indica is dominant, and it possesses low levels of CBD. By consuming it, it produces an effect of body-buzz, very cerebral and balanced. Its flavors are quite sweet and sensational.
Northern Lights x Big Bud
This variety has two widely known parents, which, after a crossing and re-crossing, researchers achieved this incredible stable strain. It can concentrate up to 22% of THC in its buds. It provides spectacular sweet flavors, with touches of fruit, emphasizing the pineapple and the citrus fruits. It produces a strong effect, which generates body-buzz, joy, and relaxation in unison.
Zkittlez
This variety has a pleasant sweet taste, intensely fruity, exquisite, and dense. It is one of the varieties of marijuana that most reminds us of candy and has a diversity of flavors, including chocolate, gum, and caramel. This hybrid delivers high concentrations of THC, with a minimum of CBD. It is versatile since it can be used on a party night or remain anesthetized on the couch.
Wedding Cake
The aroma of this strain is extraordinary. It combines sweet and earthy smells, with hints of vanilla, marked by a Skunk background. It can deliver a concentration of up to 24% of THC and 2.4% of CBD. Indoors it can yield up to 1 Lb/m2, and outdoors 11/2 Lb/m2. In its genetics, it is 65% Indica and 35% Sativa.
Gelato
With this variety, you will obtain buds in only eight weeks. Its buds are spectacular, covered with very sticky orange pistils. It produces a powerful high that can knock you down. It has a soft, creamy, sweet, and earthy aroma and taste, with slight citrus notes.
Get the Best Autoflowering Cannabis Seeds Online
At Weed Seed USA, we strive to provide you with the most extraordinary quality seeds, with outstanding genetics that will give you extraordinary harvests. We have the best auto-flowering varieties for you, which will give you optimal harvests that will boost your business to the top. Contact us to buy your seeds or purchase online.